NEWS BULLETIN


Due to popular demand, we've added a second bus for Trip 3 and Trip 8!
Gift Certificates make great Holiday gifts! Find out how to get yours

here

!
Download full trip listings (PDF)
Why Jay Buckley Baseball Tours?
…All for the love of the game. That is what's at the heart of a Jay Buckley Baseball Tour. It's about the love of baseball and the whole baseball experience. It's about the nostalgic ride on a tour bus with other fans from across the country and from around the world. You will be accompanied by experienced tour leaders who will share a wealth of information on the great game of baseball and this wonderful country.
As a fan on a Jay Buckley Baseball Tour you will take in great games, phenomenal ballparks, and enjoy the sites of great "baseball towns", not unlike what young players did back in-the-day when all they wanted was to play the game, because they loved it.
But maybe one of the greatest memories you will take home with you is the friendship and camaraderie of other fans…fans that become friends. Friends you may meet again and again to enjoy the best Baseball Tour in the country. A Jay Buckley Baseball Tour is the only way to truly experience the great game of baseball, this nation's favorite past-time.
Jay Buckley in the news:
Baseball tours are a hit with fans
With game tickets, transportation and meals all arranged, fans can relax and enjoy a true road-trip experience as they visit several Major League venues.
Read article on LATIMES.com


By Don Huebscher Leader-Telegram staff.

Traveling with the Pros for 31 years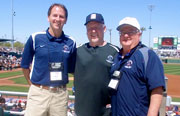 "This trip was perfect for me. Out of a high score of 10, I give it a 11 or 12."
Gary Hansen,
Fort Wright, Kentucky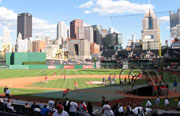 Choose venues including:
Yankee Stadium, Miller Park, Wrigley Field, PNC Park, Progressive Field, Comerica Park, U.S. Cellular Field, Busch Stadium, Kauffman Stadium, Nationals Park, Citizens Bank Ballpark, New Citi Field, Fenway Park, Camden Yards, Great American Ball Park, Petco Park, Dodger Stadium, AT&T Park, Angel Stadium, Chase Field.

Don't miss the bus! Find out what seats are available!