Covering The Bases
As we begin our 35th year of taking baseball fans to games all across the country, we want to say THANK YOU! Thank you for allowing us to grow from one tour a year to 30 tours a year. Thank you for continuing to support our love of the game and joining us on these fun-filled adventures every year.
2017 will be another exciting year, especially with the opening of the new SunTrust Park in Atlanta. We will be visiting the new home of the Braves on tours #5, #11, and #16. There will be two West Coast trips this year with one starting in San Francisco (tour #8) and the other starting in San Diego (tour #20). Plus for the first time ever, we will be starting and ending a tour in Atlanta that will include games at the new SunTrust Park and the two Florida parks (tour #5).
Back again this year is a trip to Williamsport, Pennsylvania to enjoy the Little League World Series. This is an experience every baseball fan should do at least once. We had a wonderful time last year and will be enjoying a couple of games again this year on tour #22.
We will continue our traditional tours including visits to Toronto with stops at Niagara Falls (tours #3 and #13); the New York Experience featuring a Broadway Play (tour #17); a Midwest tour including the College World Series (tour #6); two tours going to the Hall of Fame Induction Ceremony (tours #14 and #15) and many more.
We will have all the excitement from the MLB All Star game in Miami this year on tour #10. Don't forget to check out the Wrigley Field experience (tour #18) with one game inside the historical ballpark and another Cubs game from the rooftop.
The VERY popular Ultimate Game Day Weekend will be back again for its fifth year. Check back with us in May as we provide the details of the very exciting MLB/NFL combination trip for next September. We look forward to getting the season started in March with Spring Training tours in both Arizona and Florida.
It is going to be another exciting season of baseball in 2017. We look forward to seeing old friends and meeting new ones. Here's to another 35 years of baseball fun!
See you at the ballpark,


Everything else
Jay Buckley
---
Get your FREE 2017 brochure here!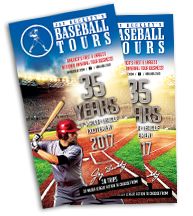 ---
Gift Certificates make great gifts! Find out how to get yours here!
---
2017 HALLOWED GROUND CALENDAR is available now! Click here to get yours!