Everything else Jay Buckley
Get your FREE 2020 brochure here!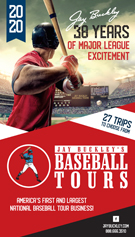 Gift Certificates make great gifts!
Find out how to get yours here!
Interested in purchasing one of our calendars? Contact us here!
Nearing the end of the first of what I hope to be many tours with Jay Buckley. This is just the best vacation a baseball fan could have! Guides are very knowledgeable and anticipate most questions and needs. We are traveling with a great group of people and are having fun getting to know them. I would wholeheartedly endorse these tours.
Becky Ehler
9/14/2018