Trip Availability
The number after the equal sign is the number of spaces AVAILABLE on that specific tour.
Please feel free to call or write with any questions or to double check availability.
Tour #26 = 15 remaining
Escorts: Mike and Judy Limberg
Tour #27B = 9 remaining on second bus
Escort: Frank Thornton and Nate Wiste
Tour #27B = bus one sold out
Escorts: Mark Fuller and Kevin Mihalovic
Tour #28 = 7 remaining
Escort: Matt Thornton
updated 9/7/17
Everything else
Jay Buckley
---
Get your FREE 2017 brochure here!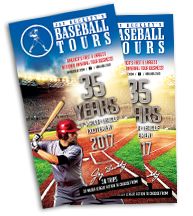 ---
Gift Certificates make great gifts! Find out how to get yours here!
---
2017 HALLOWED GROUND CALENDAR is available now! Click here to get yours!